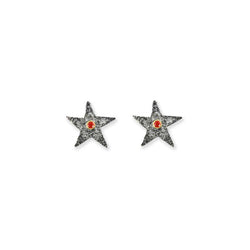 Silver Stars With Ruby
Handmade earrings made of 925 oxidized silver, 750 gold and ruby is the perfect combination for this beautiful piece of art.
Apostolos gold and silver creations, harmoniously blended with precious and semiprecious gems, bear the hallmark of originality, elegance and understated luxury. In his works, age-old Hellenic tradition meets a contemporary sense of style in a uniquely enchanting way.
A splendid pair of earrings to wear every day or for special occasions. Their elegant size of 1.4cm is the perfect size to go with.